Revival is already happening. It may disappoint you.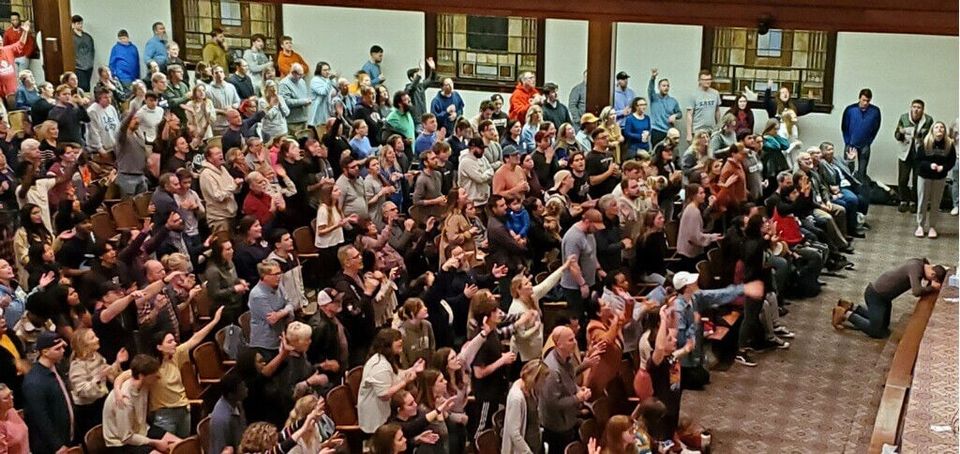 When I see people from my old churches or acquaintances from my undergrad, I'm often asked how things are going leading a church in Washington, DC. "Leading a church in DC must be tough!" they assume. And they're not wrong. Leading a church here is tough, though probably not for the reasons they're thinking of.
What can amaze these friends is I can honestly respond to their questions with,
"God is moving! At The Table, we've had more people either come to faith for the first time, or return to their faith in Jesus, than I've ever experienced in any other church."
And it's true! On a monthly, if not weekly, basis, I interact with people who had given up their faith in God, in Jesus, and in the church. But when they encounter how God's Spirit is moving at The Table Church, they rediscover (or discover for the first time) a faith that is beautiful, helpful, and true. People's lives are changed and transformed when they hear the Beautiful Gospel of God's love, forgiveness, and justice. It is my favorite thing about being a pastor, and it is beautiful.
There's been a lot of angst in American Christianity about the decline of church attendance and the number of folks who check "Christian" on a religious survey. Specifically, "young people" (formerly the poorly defined category "Millennials," now it's Gen Z) are leaving the church in droves, supposedly off pursuing paganism and worldliness.
But at The Table, most (not all) of our people are those mysterious Millennials and Gen Zers. They're the ones who are consistently showing up, serving, leading small groups, worshipping, preaching, and having real encounters with the living God. While, statistically, most churches are growing smaller and older, The Table has consistently been young and growing.
The word that I was handed for this was revival.
But I have to be honest. I don't always say aloud to these acquaintances or former congregation members who exactly is coming to Jesus and what that Gospel transformation looks like. Why?
Because I know that once I say it, it will be dismissed or ignored.
---
Across the street from the seminary I attended, there's a college that shares its name, Asbury University. Like my own undergrad alma mater Bethel University1, Asbury has mandatory chapel services. While people love to hate on mandatory chapel at Christian colleges, I, for the most part, deeply appreciated my three-times-a-week mandatory chapel service.
This past week at Asbury, there has been a chapel service that has not stopped. It has gone on, day and night, for several days now. Echoing a similar event in the 70s, it has been dubbed The Asbury Revival.
Now, to be clear, I'm not there. I haven't really talked to anyone who is there. I'm just seeing the online reports from acquaintances. Bethel University had something similar happen in 2009 (the year I graduated), so I do understand the vibe of what's happening. Instead of chapel ending like it's supposed to and people flooding out to go back to class, the band keeps playing. People keep coming forward for prayer. Honest to God, people receive physical healing. Visions and prophecies are shared. It's heady stuff.
And yet…when the fervor dies off, and the band stops playing, and the professors start asking for assignments to be turned in again—a big "so what?" hangs in the air. What was all that singing and crying and dancing spontaneous liturgical movement for?
---
I think our definition of revival is messed up. Dr. Andrew Rillera, a professor of Bible and Theology, said it well:
Sorry to be a biblicist and, therefore, a curmudgeon, but only time will tell if this Asbury "revival" is actually worthy of the name or if it is just futile navel-gazing. If and when they start pleading the cause of the afflicted and needy with one voice, then I'll believe they "know" God.
Revival, for the prophets and The Book of Acts, was not just about having warm fuzzies about God. Instead, it was about:
Repentance and repair of injustice
A reorganization of society to lift up the poor, imprisoned, and marginalized (Jeremiah 22:15-16; Acts 2:41-47 and 4:31-35)
The ability to receive critque and then change structure and policy in light of that critique (Acts 6)
Cities (filled with people who had previously been categorized as enemies) being filled with joy because of physical provision and healing (Acts 8:8)
Government authorities feeling threatened, because their primary sources of power (violence and greed) were being robbed of that power (Acts 17:1-7; Acts 19:23-41).
Those pushed to the margins being seen, empowered, and liberated.
Having a great worship experience with fellow believers is a powerful thing. Being intoxicated with the presence of God (through music, preaching, prayer, and even dance) can be a life-altering experience. But it is not the same as revival.
The way we know that revival has happened is when neighborhoods, villages, and cities are transformed into places where "justice can make its home" (2 Peter 3:13).
---
The information I don't always let my old congregation members and acquaintances know—lest they roll their eyes and be tempted to blaspheme the Holy Spirit—is that the people who keep coming to Jesus at The Table Church are the very people that they might have been happy to keep out. Like—
Gay, queer, and trans children of God who are accepted without condition. Who can lead and preach. Who not only receive communion, but serve it. Who will have a pastor bless their marriage and baptize their children.
Black, Brown, Asian, Latinx, and Indigenous people who are willing to name the harms of white supremacy and will not be content with a church community that won't do the same.
Women and feminist allies who see the harms of purity culture and rape culture and will therefore fight for reproductive rights; who will shame abusers and the organizations that enable them; and pass legislation to help ensure it won't happen again.
People experiencing homelessness who keep coming back week after week because they know they won't be turned away or told that they took too many snacks, who will have people actually look them in the eyes and talk to them.
Community organizers and activists who denounce the evils of gun culture, of capitalism, of colonization, of policing, of debt, of prisons—and work inexorably toward the liberation of us all. "Nobody's free until everybody's free."
All of the folks above—and their lives and work—are examples of revival. Of finishing the work that Jesus started when he became the embodiment of Isaiah 61. Freedom for the prisoners, liberating the oppressed, proclaiming the year of Jubilee.
Revival is happening and has been happening. Every gay or trans child that finds that God loves them exactly as they are—revival.
Every law passed that protects the rights of women—revival.
Every dollar used to free prisoners and debtors, to house the hungry—revival.
Every action taken to dismantle white supremacy, to take money out of police and prisons—revival.
Personally, I love that the students at Asbury are having a raucous time worshipping right now. I've experienced those raucous times too. May they next then heed God's call to transform that fervor into the Spirit-energized energy that can break the chains of injustice.
"Is not this the kind of fasting I have chosen:
to loose the chains of injustice and untie the cords of the yoke,
to set the oppressed free and break every yoke?
Is it not to share your food with the hungry
and to provide the poor wanderer with shelter—
when you see the naked, to clothe them,
and not to turn away from your own flesh and blood?

Isaiah 58:6-7
---
formerly College ↩︎